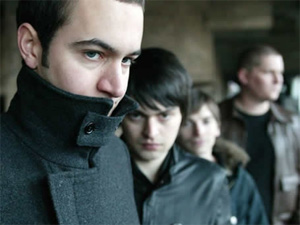 "Bones"
was the fifth and final single from An End Has a Start, the second album by Editors. It was only released in Continental Europe under the PIAS label as a download only single. It was released to help promote the band during the festival run and their support of R.E.M. in July during their German shows.
"Bones" was one of the first songs off An End Has A Start to be performed live, along with "The Weight Of The World" in 2006. It has since gone through many changes, most notably the bridge and outro of the song which was previewed via a short video made by the band months before the album came out.
The video includes on stage and behind the scenes footage shot during the European tour in March and April 2008. It was directed by the band's bassist Russell Leetch.
These are the comments from a few listeners:
"One of the best songs I've ever heard. This band does not get the credit or recognition they deserve."





"They have intelligence to make sounds that no one else can, maybe the songs are simple, but i bet no one can imaging something like that, this is my contemporary favourite band for sure! editors rulez."





"They are absolutely amazing...Music lyrics vocals they have everything...

"
A truly awesome song. Really. Enjoy!
Have you listened to it?,

PLEASE MAKE A COMMENT;

let us know if BONES, Editors is a Truly Awesome Song 4 U!